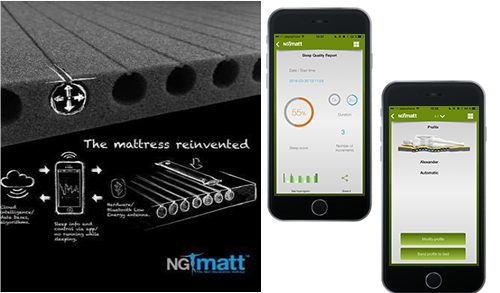 The 'T-series' of NGmatt uses more than three decades of Physical and Sleep research added to the most advanced technology to reinvent the mattress.
The 'T-series' of NGmatt is an affordable, intelligent mattress, which:
Regulates the firmness of each one of its 24 confort zones (12 per side) on its own to each user specific and changing ergonomic needs to always provide a correct spinal alignment.

Automatically reports each user sleep quality and by means of the ergo-matic function, learns and self-changes the mattress firmness configuration to maximise sleep quality.

Easily controlled by a smartphone app, also allows the remote monitoring of the user by a health supervisor.

Helps to relieve many sleep related disorders and its medical comorbidities and in a near future will early detect some of the more life-threatening ones

.